The opening of CERN Science Gateway is imminent and, inside the impressive building, teams are adding the final touches to the labs for schools, auditorium for events and three permanent, hands-on exhibitions.
CERN Science Gateway's exhibitions are unlike anything CERN has developed before. The Microcosm, which closed its doors last year, showcased CERN behind the scenes and was primarily aimed at visitors with some prior understanding of physics. In contrast, the Science Gateway exhibits, which are as hands-on and interactive as possible, target visitors aged 8 and up, from those with no scientific background to the most experienced of particle physicists – there's something for everyone.
Spanning the Route de Meyrin in two tubes reminiscent of CERN's accelerators are two of the three permanent exhibitions: Discover CERN and Our Universe. The walkway from the Science Gateway reception takes you first to Discover CERN, which is divided into Accelerate, to your right, and Collide, to your left. Accelerate houses a real, working particle accelerator, an LHC dipole magnet and a wealth of interactive exhibits to demonstrate the science and engineering concepts behind accelerator development. Collide features slices of a detector, guiding you through colliding and detecting particles, analysing the collisions and all the technological developments needed to make this happen.
Similarly, Our Universe, located in the second tube, is divided into Exploring the Unknown to your right and Back to the Big Bang to your left. Back to the Big Bang takes visitors on a trip back through time to find out where their particles come from. It situates CERN's research within the timeline of the Universe, featuring interactive exhibits on scientific concepts from dark matter to nucleosynthesis in stars and telling the CERN stories behind them. Exploring the Unknown is a more reflective space, inviting visitors to contemplate some of the big mysteries in physics, through themes such as the void and the invisible. Developing from a dialogue between artists and theorists, it features four artworks specially commissioned for Science Gateway: Round About 4 Dimensions by Julius von Bismarck, data.gram by Ryoji Ikeda, Chroma VII by Yunchul Kim and TAFAA-SINGULARITY by Chloé Delarue. Each artist has previously been an artist in residence at the Arts at CERN programme.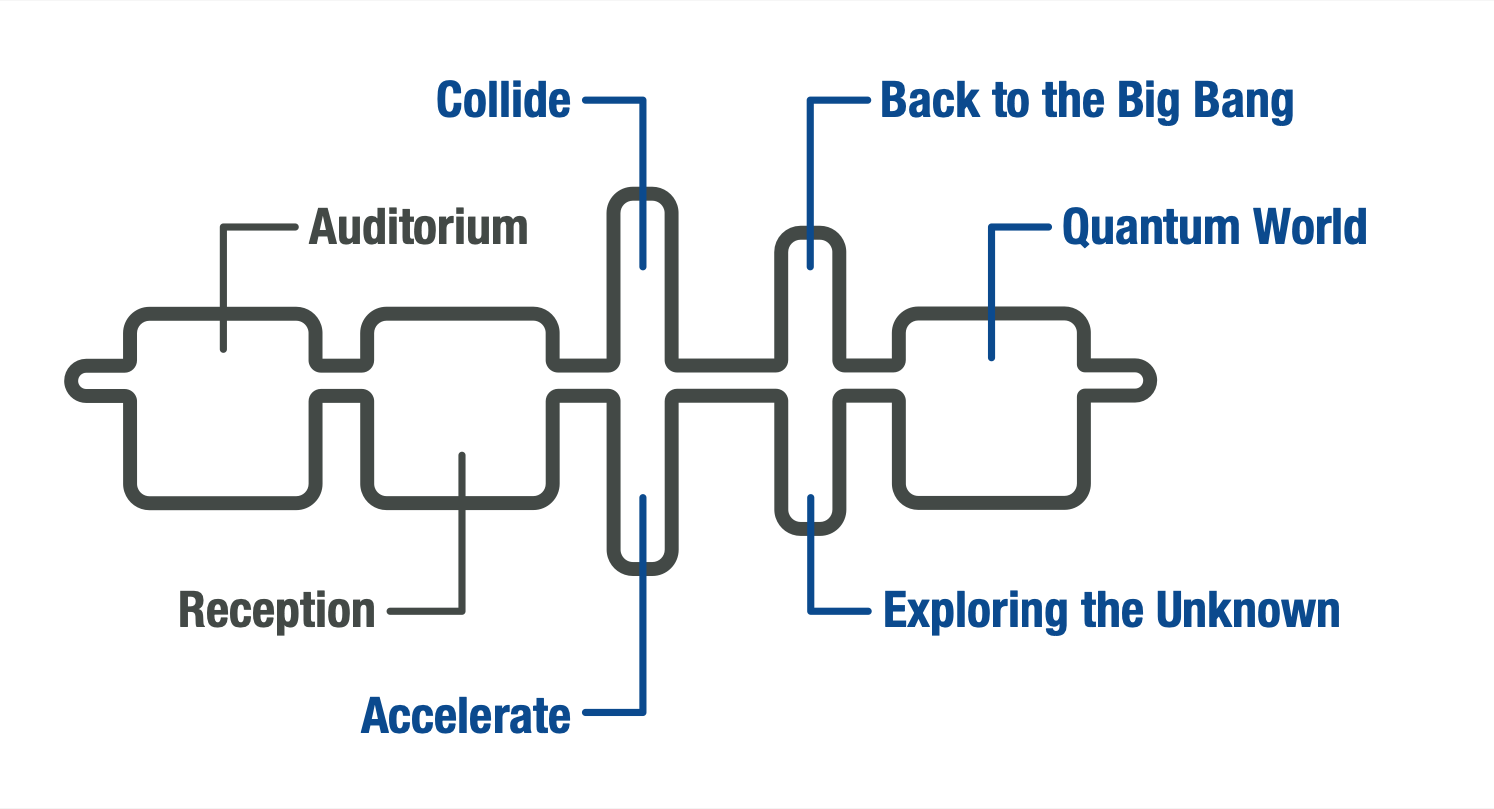 Next to the two tubes is the exhibition Quantum World. Here, visitors can experience the strange laws of quantum physics as if they were themselves a particle. This immersive experience is audio-guided and interactive. In addition, playful hands-on exhibits include quantum tennis, quantum karaoke and a double slit experiment.
The interactive exhibits were all developed in collaboration with CERN scientists and expert exhibition developers. Each activity was tested with the target audiences in mind and many encourage open exploration and collaboration between visitors, with help from the Science Gateway guides.
"The exhibits give all visitors the chance to interact with CERN's science, technology and even the people," explains Emma Sanders, head of the Science Gateway exhibition team. "We really enjoyed the CERNois visits last week and often heard members of the CERN community keen to come back soon with members of their family.
"CERN thrives on collaboration," continues Emma, "and Science Gateway is no exception. I thank all the many members of the CERN community who have been involved in developing the exhibitions, as well as all the guide volunteers, for making this exciting interactive experience possible."
Want to explore the exhibitions further? It's not too late to become a CERN Science Gateway guide. Interactions with real people who work at CERN make the experience unforgettable for visitors, and may give you some surprising benefits, too!